SPECIAL FEATURES
Philip Ahn
Tia Carrere
Margaret Cho
Church of Rhythm
Michael Kang
Hiroshima
James Hong
Michael Kang
Bruce Lee
Jet Li
Keye Luke
YoYo Ma
Martial Law
Minoru Miki
Lea Salonga
Dalip Saund
George Takei
Kiana Tom
Tamilyn Tomita
Ming-Na Wen
Anna May Wong
Russell Wong

SECTIONS
Actors
Actresses
Astronauts
Athletics
Authors
Business People
Cartoonists
Community Leaders
Dancers
Directors
Diversity Heads of the Networks
Fashion Designers
Film Festivals
Inventors
Military
Musicians
Newscasters
Photographers
Politicians
Television Shows



BOOK REVIEWS
Pursuing the Pearl
Going Geisha CONCERT REVIEWS
Blackeye Peas INTERVIEWS
Alexis Oo
Hyepin Im
Jacqueline Kong
David Maquiling
Kiana Tom ARTICLES
AA Christian Music
AA Hate Crimes & Fetish
APA's at Pearl Harbor
APA Musicians (Internet Chat
Burning of a Chinatown
Demise of Mr. Wong
Ethnic Diversity
EWP & Diversity
Improving 501c-3 Orgs.
KA Churches
Lost Empire Review
Politics
Thung Phetakoune - A Hate Crime
Vincent Chin
What is a Hawaiian? SPEECHES
George Takei on Diversity GENERAL ARTICLES
21st Century Racism
AA Cinema
AA Journalists
AA Politics
Amy Tan Interview
APA Discriminatin
APA's on TV
Are you a "SCW?"
AsAm Females
AA Female Directors
APA ACTORS IN 2001
AsAm Male Bashing
Asian American Cinema
Asian Starlets on the Rise
Asian American Image
Asian Attitude
Asian Invasion of Hollywood
Asian Male
Asians on Campus
Asian Stereotypes
Asian Women (Media)
Black Racism
Casting Discriminations
Chinaman & the Chink
Chinese Canadians
Chinese Immigrant Story
Color Blind World
Demographic Figures
Hate Crimes (1998)
Hate Crimes (1999)
Hate Crimes on the Rise
History
Indian Americans
Joy Luck Club Sucks
KA Women Cinema
KA/AA's Need to be Involved
Media Watch
Model Minority
Minorities in Business
Minority Report (SAG)
Minority Report (TV)
Ms. Saigon Issues
New York Chinatown Politics
Nightline on AsAm's
Nightline on Immigrants
Origin of Stereotypes
President's Initiatives
Racism
Racism - Angela Oh
Racism - Angelo Ragaza
Racism - Gary Locke
Racism - John Kim
Racism (Military)
Racism - Norman Mineta
Racism - Phil Tajitsu Nash
Racism - Steward Ikeda
Racism (Views)
Stereotypes
Struggle for Roles
Then and Now
Too Many Asians!?!
Trouble w/AsAm Films
United
Vanishing AsAm Males
What Kind of Asian?
White House Prejudice
Yellow Face
Yellow Fever (AmAm Females)
Yellow Menace
Yellow or Gold?

DALIP S. SAUND
The First Asian in U.S. Congress
by Inder Singh




IT WAS A MAJOR UNDERTAKING

to convince the elected representatives of American people in Congress on one hand and on the other to mobilize the Indian community. D.S. Saund, with the help of some dedicated Indians, made several trips to all parts of California, raised funds, mailed out thousands of circular letters, mostly in Punjabi, and furnished financial assistance to Indian groups in New York to lobby at the Capital Hill.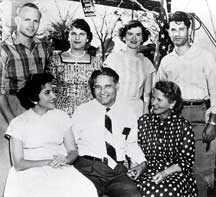 The mobilization took some effort but soon it gained momentum and Indians in the USA were ready for all-out effort to gain citizenship rights. They were able to convince Congresswoman Clare Booth Luce from Connecticut and Congressman Emanuel Cellar from New York who jointly introduced a bill in Congress. However, selling this concept to the members of Congress was an uphill task, more so, as its passage could open the door for other Asians who were similarly deprived of citizenship rights. Indians continued running into roadblocks in finding a powerful force to push it through. Luckily, in 1946, President Truman took special interest in its passage. After four years of waiting, Luce-Cellar bill was finally passed by both houses of Congress and signed by President Truman on July 3, 1946. It was a great triumph and truly 3rd of July was the Independence Day for those Indians in United States.

DALIP SINGH

became a naturalized citizen on December 16, 1949 and was ready to take more active part in the political process of his adopted homeland. The primary election was a few months away, in June 1950. A close friend, Mr. Glen Killingsworth was judge in Westmorland, with whom D.S. Saund had worked unofficially for many years in Democratic Party affairs, encouraged him to run for a seat on the Imperial County Democratic Central Committee. Saund's first political victory was without any opposition.

A FEW WEEKS

after the election, Judge Killingsworth suddenly died due to heart attack. It was a great personal loss for Saund, for he had watched him closely in his work as judge for many years and had admired the office and the way his friend had filled it. Saund decided to become a candidate for that office in the general election in November, 1950. He personally knew nearly all the voters in the judicial district. So he started a vigorous campaign by ringing doorbells, meeting people and asking for their support.

DALIP S. SAUND

was elected Judge solely due to his exemplary grassroots campaign. No other foreigner had by then been elected to any high office in Imperial County. But the judgeship was denied to him as he had not been a citizen for one full year by Election Day. Saund's friends started circulating a petition addressed to the County Board of Supervisors who were to appoint a judge. More than twice the number of voters than had originally voted for Saund, signed the petition. Most of the mayors of cities in Imperial county, the presidents and leaders of different civic and professional organizations, including the chairmen of both the Democratic and Republican county central committees had signed a separate petition. The daily newspapers in the county urged the Supervisors through their editorials for appointment of Saund as a judge. But he lost his first political battle through that minor technicality.

SAUND WAS DISAPPOINTED

but by no means discouraged. He wrote in his autobiography, "I harbored no bitterness against my opponents. Throughout 1951 and 1952, I continued my activities in support of Community Chest drives, the Boy Scouts, and particularly the March of Dimes for which I was the chairman for two years." All these community activities kept him in very close contact with the people of his district. When he ran for the position of judge in 1952, he ran against an incumbent who was appointed by the County Board of Supervisors, was an established businessman and a member of the church board. The campaign also had taken a racial overtone; some people would not go for the "Hindu for judge". But most of the people had felt that injustice was done to Saund last time and now was the opportunity to correct it. Saund won the election and served as judge for four years until his election to the Congress of the United States in 1956.



GOPIO
Global Organization
of People
of Indian Origin

GOPIO was founded at the First Global Convention of People of Indian Origin in New York in 1989.

The initial thrust of GOPIO was fighting human rights violation of people of Indian origin. This has been improved in the last one decade.

GOPIO has now set its priorities in pooling our resources, both financial and professional, for the benefit of PIOs, the countries they come from and India.
IN 1954, JUDGE SAUND

was elected chairman of the Imperial County Democratic Central Committee and became a member of the Democratic Executive Committee of the state of California. In the same year, Mr. Bruce Shangle of Riverside County became the Democratic nominee from the 29th congressional district. He knew that he had to campaign hard in Riverside county to win as 80% of the voters resided in that county. So, it fell on Judge Saund to manage the campaign of Mr. Shangle in Imperial County and speak on his behalf to various service clubs and Candidates' forums. Mr. Shangle did not win but it gave Judge Saund a very valuable experience into the workings of a congressional office and the duties a congressman has to perform.

JUDGE SAUND, BY NOW,

had become quite well known in Imperial county. In October, 1955, he decided to be a candidate from the 29th Congressional district. He was confident of loyal support from the County Democratic party but was not sure of similar support from Riverside county. Mr. Bruce Shingle who ran unsuccessfully in the last election assured his full support

JUDGE SAUND'S DEMOCRATIC OPPONENT

was a well-known Riverside County attorney, active in California politics and at one time had been a candidate for attorney general of the state of California. He tried to get Judge Saund disqualified on the technical grounds that he had not been a citizen for seven years before he could become a member of the U.S. House of Representatives. First the Appellate Court and then the Supreme Court of California dismissed the petition on the grounds that the sole judge of the qualifications of a member of the House of Representatives is the House itself.

JUDGE SAUND HAD NOT YET

become a familiar name to the voters in Riverside County. But they read his name on the front pages of every newspaper in the district, not one time but three times, first when the appeal was filed, second time when it was turned down by the lower court and third time when the Supreme Court rejected it. No money could have bought him as much publicity and name recognition as these news reports.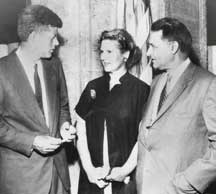 But his Democratic opponent did not give up. He, in his newspaper and radio advertisements, attacked Saund of his being an Indian and not an American and quoted passages from his book, My Mother India, out of context. Even his name Dalip Singh was boldly printed and Saund in small letters to draw attention of the voters that Judge Saund was really not an American. All the tactics used against Judge Saund apparently did not hurt him; he won the primary with a tremendous majority.

IN THE GENERAL ELECTION,

Saund faced Jacqueline Odlum, winner of many prizes in the field of aviation, leader of women fliers during World War II and wife of a multimillion financier. She was contesting from a district that has always elected a Republican in its entire history. She had rich supporters and was personal friend of the President of the United States. At her barbecue rallies, people not only would come to see the invited celebrities, such as Bob Hope but her also, a celebrity in her own right. She even had then Vice President Nixon come to Riverside to speak for her.

JUDGE SAUND FACED

formidable handicaps but was not intimidated. His friends and neighbors with the help of Democratic groups in Riverside County, began to sponsor a series of free barbecues which gave him an opportunity to meet people and communicate his message. His whole family, his wife, three children, his son-in-law and daughter-in-law and score of volunteers kept busy ringing doorbells and passing out literature. He did not have funds to buy space on commercial billboards, so his volunteers made homemade billboards on 4x8 foot plywood sheets. He put up these billboards throughout the district and they apparently turned out to be very effective. His wife and daughter organized and carried out an intensive campaign of registration of voters and "passed out 11,000 Saund circulars" before the election. They had visited thousands and thousands of homes with the help of dedicated volunteers and made a definite impact on many voters. Much after the election, people would come up to Saund and say, "I met your daughter",……..or "your son-in-law called at my house".. and that is when I decided that I was going to vote for you."

JUDGE SAUND HAD FARMED

for twenty-five years in Imperial County and was thoroughly acquainted with the problems of the farming communities in both counties. He believed that farmers needed government protection in order to get a fair share of the economic reward. So the farmers in the 29th district were confident of his representation of them in the U.S. Congress. But, it was from the cities, that he was trying hard to get a fair share of votes. Thus, in the general election in November 1956, "the first native of Asia" was elected to the United States of Congress with a 3% vote margin.

THERE WERE VERY FEW INDIAN AMERICANS

registered to vote in the 29th congressional district. In fact there were barely 2500 people of Indian origin in the entire United States. He did not have many ethnic voters either; the large majority being Caucasian Americans. He did not adopt a new religion in his new country nor did he Americanize his name to sound less ethnic. His opponents repeatedly tried to exploit his being an Indian American. But he had completely assimilated with mainstream America while maintaining his heritage. He actively participated in Democratic Party activities and rose to be a delegate in three conventions starting in 1952. He represented grass-roots philosophies and identified with middle-class values, the values of the people he lived with. Today, Indian Americans, seeking political office invoke Saund's name, much the same way, as Saund himself invoked Gandhi and President Lincoln's name. Like them, he is a source of inspiration and a worthy role model to look up to.




Click HERE to return to the beginning.




Any questions regarding the content, contact Asian American Artistry
site design by Asian American Artistry
Copyright © 1996-2003 - Asian American Artistry - All Rights Reserved.